Artists. Those "right-brained," emotionally in-touch (sometimes emotionally driven), innovative and creative people. They are so passionate for their art, and yet sometimes hindered in the ability to discipline that energy and organize "the work." Yes, discipline and organization, those are skills that tend to be more "left-brained." I read one time (I think it was Zig Ziglar) that… 
…you don't just wake up one morning and you are on the mountaintop. You have to climb up there on purpose! One step at a time, everyday.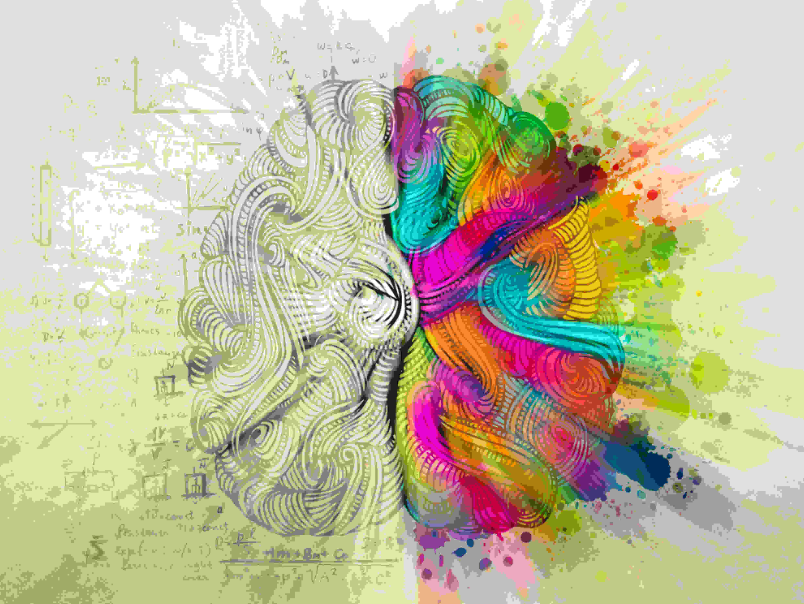 Several years ago, I was following an artist online that did "a painting a day." That concept caught my attention. Carol Marine's "painting a day" blog is inspiring! Her paintings are small in dimension and yet beautiful. Now, the painting is a creative endeavor and most certainly engages the right side of the brain. But the discipline of "daily" and the organizational skills it takes to keep all the needed supplies handy, prep all those small canvases (artists usually do a number of those at one time, and I expect it's not their favorite task), getting the needed photographs handy that she uses to create is a "left-brain" chore. Not to mention the website now filled with images of her paintings. That took some doing, as does the maintenance, the filling of orders, and continual photography and uploading of new product. Whew!
Inspired by that idea, I've been trying to do the same thing for the last year with writing. The idea of a short article or blog post is not nearly as intimidating as something like a novel, and I like non-fiction anyway. Writing everyday, and posting once a week or so is not too scary. It is for sure a great exercise in discipline and organization. And truthfully, if we have any kind of gift or talent, we really must use it and exercise it, to grow, improve and perfect it. Why not daily?
Now here is where you come in. How can you translate this into acting (or your passion and gifting), for example. What does that look like for an actor? A daily painting or a daily journal entry or chapter? Here are some ideas I have (start with the first one, then consider others):
Pray daily – God tells us in His word to "ask." He likes that. Plus, He is the one that put the passion/gifting into you, so He knows best how to get your creativity into full bloom. Talk to Him about it,  then spend some time "listening." (This is called meditation.) He can impress upon you which of these below to focus on, or better yet give you something "custom designed" just for you to do daily.

Memorize every day – this is a vital foundational skill and the best time to learn which process works best for you is in your down time. There are many articles and videos online to help you find a favorite technique. Find yours and work daily. Memorize monologues, every actor should have at least three ready at all times (one dramatic, one comedic and one classic). Once you have those polished, then find other things: favorite passages from books, poems (I love Robert Service ballads), psalms (can't beat Psalm 91) or other scripture. If that right-brain needs a workout, write your own monologue or ballad! Whenever possible, practice in front of someone.

Check the local resources for auditions daily. Every large city has them: online "call boards" and websites that post auditions and opportunities, as well as what is casting or shooting nearby. Get a plan going as to what you will submit your headshot and resume for and or an audition tape. You may have an agent, but don't sit around and wait on them. Be resourceful. Your agent will like that and you'll get his/her attention. (If you do not have an agent, you will still need a headshot to do these things, but keep in mind, once you do get an agent he/she will probably have you reshoot your headshot.)

Make contacts daily. This could include phone calls, e-mails etc., but be careful that it is not too invasive in the case of casting directors and production companies. You don't want to be a pest but a post card, (wow you spent some money) sends a different message than an e-mail. Send your headshot and a note about a play you are in, or another project you have been cast in, or a class you are taking. Take a production secretary a cup of coffee or pop-in and say hi. Be kind to everyone and build relationships. That secretary or sound technician could be a casting agent or producer tomorrow. I'm speaking from experience.

Read something daily. Read plays or books about acting, or other aspects of the industry. Always, always be learning. I'll give you a MUST READ to start with: "The War of Art" by Steven Pressfield. (That is for any creative or innovative person… so that includes you.)

Vocal exercises daily. Your voice is your instrument. You can find these exercises online. (Also take care of and exercise your body, the whole instrument.) Then do your monologue (see below).

Make videos daily. Yes, even a short one minute one. You can do a couple of lines of your monologue, for example. Get comfortable with this. Many, perhaps most, auditions are done this way now. It is helpful, whenever possible, to do it with someone in the room, as it adds that little bit of pressure which is good experience. Then maybe take one day a week to do longer pieces.

Go see plays and watch movies. You are watching people work. (Someday we will post a list of our favorite performances. Make your own list.)

Help someone else. Always be mentoring someone else coming up behind you. What you make happen for someone else will happen for you!
When you purposefully engage both sides of your brain in the thing you are passionate about, you will find yourself propelled forward. Try it for sixty days and see what happens. I would love to hear about it. Do you have any ideas to add to this daily list? I would love to hear from you about your "daily."